Find A Medicare Plan that Fits Your Needs!
State Licensed Insurance Agents are available to assist you with locating a plan. To explore your options, complete the form at the right.
1-800-349-2213 (TTY: 711)
Questions? Licensed Agents Available!
Monday-Friday: 6:00 AM-6:00 PM PT
Medicare Basics
Medicare is run by the Centers for Medicare & Medicaid Services (CMS) which is part of the U.S. Department of Health and Human Services (HHS).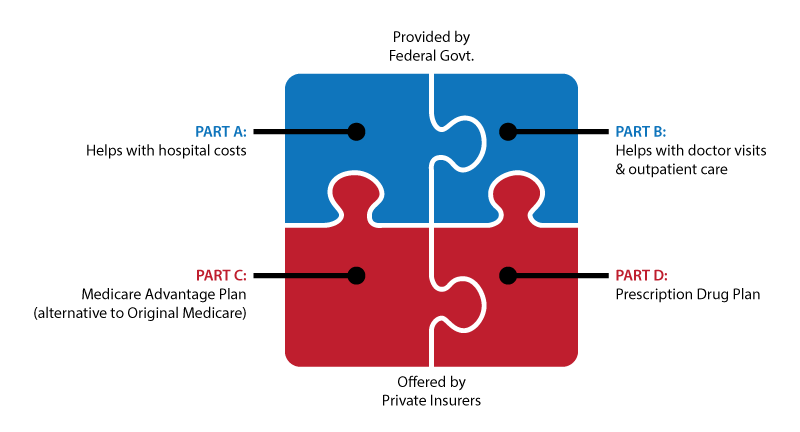 Understanding Original Medicare
Part A – Hospital Insurance
Helps Cover:
Premium

Inpatient Hospital Stays
Skilled Nursing Facility Care
Hospice Care
Home Health Care

$0 per month for most people
Those who don't qualify for premium-free Part A may be able to "buy-in"
Part B – Doctor Visits
Helps Cover:
Premium

Doctor Visits
Outpatient Care
Home Health Care
Durable Medical Equipment
Some preventative services including certain vaccines & cancer screenings;

Determined by CMS (Center for Medicare & Medicaid Services)
Medicare Part B Standard Premium is $164.90 (2023) – may be higher based on income
Changes slightly each year
Can be deducted from Social Security check
Understanding Additional Medicare Plan Options
There are multiple Medicare insurance plan options available, including the following.
Prescription Drugs (Part D)
Original Medicare (Parts A and B) does NOT cover prescription drugs. Therefore, you should enroll in a Prescription Drug Plan if you do not have other coverage, such as drug coverage from a current or former employer or union, TRICARE, Indian Health Service, or the Department of Veterans Affairs.
Prescription Drug Plans:
Have specific lists of covered drugs
Are sold by private insurance companies
Depending on plan, can have:

Monthly premiums
Co-insurance
Tiered co-pays
Deductibles

Can be obtained:

As a stand-alone (PDP) plan
As part of a Medicare Advantage plan that includes Part D
Medicare Supplement Insurance (Medigap)
Medicare Supplement Insurance plans help members pay for costs and services not covered by Original Medicare (Parts A and B). Plan types are standardized and identified by letters of the alphabet.
Medicare Supplement Plans:
Are sold by private insurance companies
Have monthly premiums that vary by resident state & plan
Can require underwriting/approval (depending on member situation)
In most cases, allow members to see any provider who accepts Medicare
Are often paired with Original Medicare (Parts A and B) and a Prescription Drug Plan
Medicare Advantage (Part C)
Commonly referred to as Part C, Medicare Advantage plans often include extra benefits not found in other coverage options. The most significant difference about these plans is they often have a network of doctors and hospitals for members to choose from; and they provide an all-in-one type of service where members have the convenience of using one (Medicare Advantage) card for hospital stays, doctor(s) visits and prescription drug costs.
Medicare Advantage Plans:
Cover Parts A & B benefits
Are sold by private insurance companies
Most often cover prescription drugs
Monthly premiums vary by state & plan
Have annual out-of-pocket maximums (MOOP)
May require you to see a specific network of doctors and facilities
Are typically guaranteed issue
Are NOT paired with Medicare Supplement Insurance or (typically) Prescription Drug Plans
For plan information that is specific to meet your needs, contact one of our agents today!